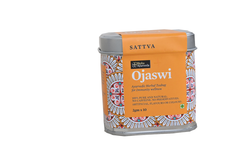 A versatile herb sachet blended with potent Ayurveda a herbs, to boost your immunity, combats with viral infections, flu,and other infections sue to seasonal weather changes. Enriched with the goodness Amla, Turmeric, Aswagandha, Tulsi etc. helps to support your immune health and wellness.
Uses
These all-natural herb tea bags have a host of revered Ayurveda herbs that boosts your immunity and supports a healthy mind and body.
Boosts Natural immunity.
Relieves recurrent cold and cough.
Improves digestion and metabolism.
Rejuvenates and energizes the body and mind
Ingredients
Green Tea, Ginger, Mint, Fennel, Black Pepper, Turmeric, Ashwagandha. Amla, Tulsi, Giloy, Cinnamon.
Directions
Place one tea bag in your cup or mug
Boil Filtered water to 95–100˚C
Steep a bag in the water
Allow to brew for 4 to 5 min according to your taste
Remove the tea bag.
Dosage
Drink only twice a day.
Storage
Store in dry, air tight box