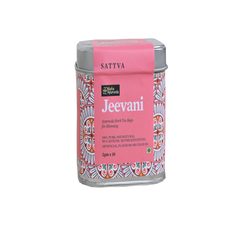 A daily formula for weight management, Jeevani has antioxidant rich Ayurveda herbs like amla, harithaki and haridra that not only aids weight loss but also improves immunity.
Uses
These all-natural herb tea bags have a host of revered Ayurveda herbs that provide positive action in weight management.
Aids weight loss
Burns fat
Ingredients
Green Tea, Garcinia cambogia, Lemongrass, Cinnamon,  Ginger, and Coleus.
Directions
Place one tea bag in your cup or mug
Boil Filtered water to 95–100˚C 3. Steep a bag in the water
Allow to brew for 4 to 5 min according to your taste
Remove the tea bag.
Dosage
Drink only twice a day.
Storage
Store in dry, air tight box. Do not refrigerate