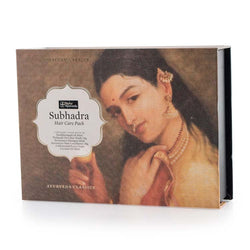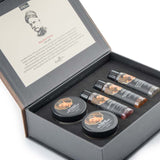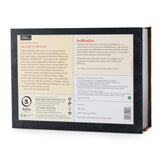 Subhadra, the half-sister of Krishna and Balarama, is a stellar beauty from Vyasa's epic Mahabharata. The warrior prince Arjuna sees Subhadra at a festival which he attends with Krishna and falls head over heels in love. On Krishna's advice, Arjuna abducts and marries her. Subhadra is one of the three deities worshipped at the Jagannatha Temple at Puri, along with Krishna and Balarama.
Neelibhringadi Oil: Classical Ayurvedic hair oil that penetrates deep into your scalp, nourishing the roots of the hair and cooling your head. Gives a lustre and pleasant smell to hair. Very efficacious in preventing hair fall and premature greying of hair.
Kerassence Shampoo: Nourishes the scalp and makes hair roots and hair follicles healthy. Coconut oil contains Vitamin E and anti-oxidants which prevent the early greying and loss of hair.
Cold-pressed Extra Virgin Coconut Oil: Extracted from farm fresh, matured coconuts by cold process, it is as pure as mother's milk, that nourishes and moisturizes your hair and skin.
Thalipodi (Dry Hair Wash): Revitalises your hair with the goodness of hibiscus.
Kerassence Hair Conditioner: Nourishes, cleans, stimulates, the scalp, retains natural oils, strengthens roots and makes the hair glow naturally.
Manufactured & Marketed by
Bipha Drug Laboratories Pvt Ltd
B1-B4 Industrial Estate
Ettumanoor Kottayam 686631
Kerala India
Key Ingredients
Hibiscus Rosa-Sinensis (Powder)
Lavender Angustifolia Oil
Lavender Oil