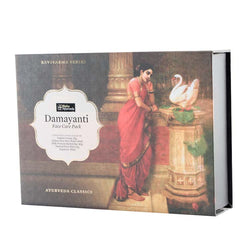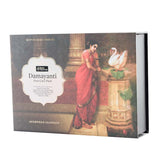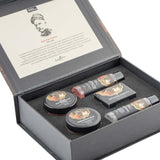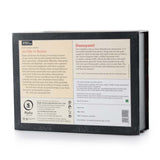 The Vidarbha princess from Mahabharata, Damayanti, is so irresistibly beautiful that princes, kings and even the gods sought her hand in marriage. But much to the envy of others, she chooses emperor Nala, a skilled
horseman
with exemplary culinary skills, whom she falls in love with after hearing stories about his virtues from a golden swan. Kali, who was one of Damayanti's suitors, vows to ruin Nala. The couple undergoes several trials and tribulations, but in the
end,
they are reunited.
Items in the Pack:
Indian Aloe Face Wash: Enriched with herbal extracts to promote clear, healthy and youthful facial skin. Cleanses skin of all impurities without drying the skin.
Aquarose: Aquarose is premium quality floral water, steam-distilled from fresh damask rose petals. This non-alcoholic natural toner balances and restores skin pH and helps to tighten pores. It hydrates the skin to give it a fresh, dewy look. The sprayer container makes it easy to spritz the floral water over your skin.
Yamini Red Sandalwood Cream: Moisturising night cream enriched with the healing power of herbal extracts, essential oils and cold-pressed oils to reduce under-eye darkness and marks on the face. Regular use keeps your skin smooth, soft and fair.
Natural Face Pack: A unique combination of herbs that regains your skin's natural glow.
Milk Protein Herbal Bar: Made with cow's milk, goat's milk and pure vegetable oil, this natural, pH-balanced, handmade herbal bar deliciously moisturises to bring out the best in your complexion. Goat's milk, a rich source of vitamins and minerals, is great for treating skin conditions.
Manufactured & Marketed by
Bipha Drug Laboratories Pvt Ltd
B1-B4 Industrial Estate
Ettumanoor Kottayam 686631
Kerala India
Key Ingredients
Almond Oil
Cedarwood Oil
Jojoba Oil
Lavender Oil
Natural Face Pack Multani Mitti
Neem Oil
Olive Oil
Red Sandalwood Oil
Rose (Rosa Damascena)
Turmeric Oil
Virgin Coconut Oil
Ylang Ylang Oil