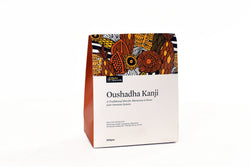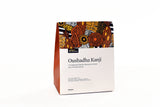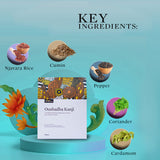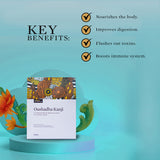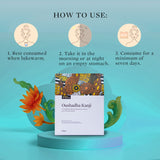 Oushada Kanji (Karkidaka Kanji) A traditional Diet for Monsoons to boost your Immune System -500 gm
MRP: Incl. of all taxes
Consumption of 'Karkidaka Kanji/Oushadha kanji ' is one such regimen traditionally in practice in Kerala for nourishing the body, improving digestion, and to flush out the toxins, and boosting the immune system. The main ingredient of Oushadha kanji (medicated porridge) is a special type of rice known as Njavara rice cooked with spices like Cumin, pepper, coriander, cardamom, etc and herbs like Garden cress, Fenugreek, White-flowered embelia (vidanga), Indian sarsaparilla (Sariba), etc 'Njavara' is a unique variety of rice found only in Kerala and is widely acclaimed for its medicinal value.
Key Features:
Nourishes the body.
Improves Digestion.
Flushes out toxins.
Boosts Immune System.
Usage Direction
Wash and drain Njavara rice with water. Crush the Njavara rice slightly in a mixer.
Add the crushed Njavara rice into 1½ cup water in a pressure cooker. Cook for 20 minutes without putting pressure cooker weight .
Open the pressure cooker and add medicinal herb packet ( Pachamarunnu, Podimarunnu, Fenugreek, and Garden cress) and mix well, Add Coconut milk and stir well. Cook by closing the Pressure cooker with weight for 20 minutes
In lukewarm condition add one tablespoon grated coconut, a pinch of cumin (Jeeraka ) and salt as need, and cow's ghee if needed.
Manufactured & Marketed by
Bipha Drug Laboratories Pvt Ltd
B1-B4 Industrial Estate
Ettumanoor Kottayam 686631
Kerala India