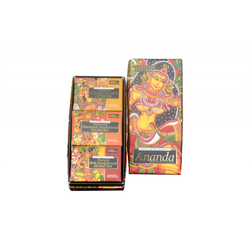 Kovilakom Secrets are Ayurveda–inspired beauty rituals derived from three unique and precious botanicals from the Indian soil - Sandalwood, Red Sandalwood and Alleppey Turmeric. Pure blends of these antioxidant-rich herbs form a luxury beauty range in gorgeously giftable boxes that include soaps, creams, oils, masks and herbal bars. 
Ananda, our luxe handmade herbal bar collection from Kovilakom Secrets, cleanses and moisturizes the skin with the vitality and healing goodness of five precious herbs from India. Red sandalwood, Turmeric, and Sandalwood. These delicately fragranced herbal bars are made in small batches with a pure plant base to create blissful bathing rituals.

This mini trio of luxe handmade Sandal, Red sandal, and Turmeric herbal bars are special souvenirs that tell the legacy of Ayurveda— India's healing science.
Items in the Pack:
Yamini Red Sandalwood Herbal Bar

 

Ojaswini Marayoor Sandalwood Herbal Bar

 

Ujjwala Alleppy Turmeric Herbal Bar

 
Manufactured & Marketed by
Bipha Drug Laboratories Pvt Ltd
B1-B4 Industrial Estate
Ettumanoor Kottayam 686631
Kerala India
Key Ingredients
Red Sandalwood And Pure Essential Oil Of Sandalwood In Permitted Soap Base
Red Sandalwood Oil
Sandalwood Powder
Turmeric
Virgin Coconut Oil