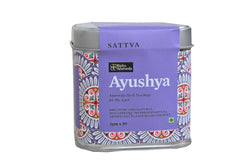 Ayushya Enervating herb sachets blended with potent drink, Ayushya herb sachets tackle a multitude of age-related concerns to heal the mind, body and spirit.
Uses 
Reduce stress and anxiety
Strengthens nerves and muscles
Helps in arthritis management
Improves memory
Ingredients
Lavender, Hibiscus, Rooibos, Chamomile, Lemongrass, Licorice, Valerian Root, Jasmine, Lemon Balm, Rose.
Directions
1.Place one tea bag in your cup or mug
2. Boil Filtered water to 95–100˚C
3. Steep a bag in the water
4. Allow to brew for 4 to 5 min according to your taste
5. Remove the tea bag.
Dosage
Drink only twice a day.
Storage
Store in dry, air tight box.