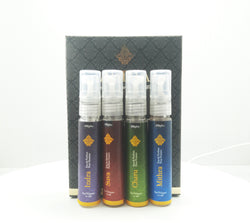 Artha Gift Pack is a collection of your favourite Artha fragrances and perfumes.
Artha Indra - A sensual and sophisticated oriental bouquet of Madagascar Ylang ylang, Madurai jasmine and petal rose harmonized with warm and energizing Marayur sandalwood, Indonesian patchouli and clove. This delicious accord is refreshed with sparkling Italian bergamot and Ukrainian coriander.
Artha Mithra - Radiate sophistication and luxury from sunrise to sundown! A great choice for the woman who loves to spritz herself with funky florals, this retro-chic fragrance is a cocktail of fresh green and rich white florals of muguet, Madurai jasmine, Madagascar ylang-ylang and lily. 
Artha Charu - Simmering with sensuality, Charu is an exquisitely enchanting fragrance that wraps you in femininity and alluring mystery. Creates the perfect kind of indulgence for treasured moments.
Artha Suva - A bold blend, Suva captures the sensual brilliance of the earth and surrounds you with an air of confidence and charm. A floral fragrance built around Iris, Madurai Jasmine and Madagascar Ylang ylang paired with clove, musk and amber; warmed by Marayur Sandalwood and earthy Vetiver from Pondicherry.  
The smoky vetiver and musk envelop a heart of aldehydes, jasmine, and ylang ylang which layers iris, galbanum, bergamot, lemon, and hyacinth, having you smell unabashedly handsome all-day long. 
How to Use
Dab the perfume on your pulse points which include the insides of the elbows, back of the knees, chest, and the sides of the neck to activate the fragrance throughout the day.