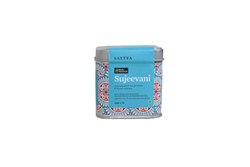 A unique herb sachets, blended with potent Ayurvedic herbs such as Sathavari, Fenugreek, Amla, Turmeric etc helps to control PCOS syste, like irregular periods acne weight gain  etc, also improving the overall health of women.
Uses
These all-natural herb tea bags have a host of revered Ayurveda herbs that regularise periods and relieves premenstrual cramps and severe bleeding.
Strengthen uterine health.
Regularise periods.
Relieves PCOS symptoms like heavy bleeding, acne, weight gain etc.
Strengthens and revitalize reproductive system
Helps to balance hormone level,
Restores uterine health and improves ovarian function.
Ingredients
Chamomile, Nettle, Moringa, Amla, Cinnamon, Ginger, Shatavari, Fennel, Peppermint, Celery, Shankhpushpi, Punarnava, Manjishtha, Cardamom, Fenugreek, Turmeric, Cumin. 
Directions
Place one tea bag in your cup or mug
Boil Filtered water to 95–100˚C
Steep a bag in the water
Allow to brew for 4 to 5 min according to your taste
Remove the tea bag.
Dosage
Drink only twice a day.
Storage
Store in dry, air tight box